Home
Fayettechill | Ozark Legend: OORC from Fayettechill on Vimeo.
---
THE 28th ANNUAL MTB FESTIVAL @ DEVIL'S DEN FLYER: CLICK HERE

THE 28th ANNUAL MTB FESTIVAL @ DEVIL'S DEN SCHEDULE : CLICK HERE
---
​A Brilliant Future for OORC and the Community...
WOW! What a year already; 100% growth at Buffalo Headwaters Challenge, 2 Branches of OORC in Russellville and Eureka Springs, Sweet New Trail section at Lincoln Lake, Ice Cream Bike abounds at OORC education events, Hobbs Battle for Townsend Ridge 40 youth riders, Lake Fayetteville Grant Proposal, 65 miles of Trail weed-whipped and dead fall removed, participants in NICA and Mt. Kessler Stakeholders. So what is next for OORC? Have we done enough? Not by any imagination!
OORC is working to establish a new trail for Fayetteville schools and envisions additional trails with proximity to schools. Rolling out our Trail Steward program, where identified OORC members ride the trails and take responsibility for updating social media sites of current trail conditions and hazards on their favorite local trail. If you are interested in becoming a trail steward check out our Volunteer Application…
Did I mention rides? Sometimes we forget we are an organization rooted in Mountain Bike Culture and we all love to be ripping through the woods. Our weekly rides are a hit, beginners rides at Lake Fayetteville and Advanced Rides on Kessler, Monthly Rides on all the wonderful trails we are blessed with in the Arkansas Ozarks. Check out the OORC website Calendar and stay connected on your favorite social media.
"Love the dirt, it gives you life!"
Chuck Maxwell
OORC - President
---
OORC TRAIL NEWS
IMPORTANT NOTICE: Dennis Moore Trail is CLOSED
We sincerely regret having to make this announcement...
To all that have come to know and love the Dennis Moore Trail, we are sad to say it is now CLOSED - effective immediately.
Built by Dennis Moore and company roughly 20 years ago, the trail passes through 4 different privately owned properties. We were recently contacted by a property owner in which the majority of the trail runs through their property and they have requested for all trail activity to cease and are currently in the process of resurrecting the old barb wire fences that cross and cut off the trail.
Please spread the word that the Dennis Moore Trail no longer exists and respect the property owners wishes.
If you happen to have publications or other media referring to the trail, please remove any reference of Dennis Moore from them.
We are truly sorry for any inconveniences this may cause.
Thank you all in advance for your cooperation and understanding.
NEW TRAIL NEWS...
Vandergriff/McNair School Trail Project​

OORC has been working with the Fayetteville School system designing a loop trail system on 40 Acres of land the schools share.cThe final system should have 3.5 miles of trail accessible to both schools and should setup nicely to become a National Interscholastic Cycling Association (NICA) race course in the future.
From the beginning OORC's plan was to educate the School and families that will use the trail what a sustainable trail is and how it functions, so hopefully they will have the knowledge to maintain the trail in the future. We started prior to the end of the 2014/2015 school year as a combined OORC/Eagle Scout Project/ PTO workday, the plan being to remove all the invasive bush Honeysuckle on the 1st ¾ mile section of trail we were trying to develop. As is typical with Maxwell he was idealistic, overzealous, and unwavering, Wearing out 75 volunteers!
Since that time we have redefined the project separating duties, Troop 116 Scout is preparing the trail corridor for his Eagle Scout project, significantly more involved than most Eagle projects these days. As Drew is finishing up the corridor we will reinitiate the PTO/kids education investment program. OUR hope is that by the end of the ¾ miles section we will have the group of volunteers who plan to enjoy, maintain the trail, and have the know how to educate newbie's on Sustainable trails. Training our members of the Future!
OORC Trails Recap - October, November December - 2015
Updated trail news for the years end coming soon!
John Sage
OORC - Trails Coordinator
---
​Upcoming OORC Trail Love Days - January, February, March - 2016
Future Dates Coming Soon!!!
*BECOME AN OORC TRAIL STEWARD*
Do you have that one trail that is your absolute favorite? That one trail you ride everytime you catch a spare second to get some extra wheel time because it's either close by and easy to get to or just the place you go to get away with your two wheeled friend? If you had the opportunity to adopt said trail and give it the love it really deserves by just simply riding and reporting the trails conditions back to the OORC member base would you do it? If this sounds like you, then today is your lucky day. The OORC needs you and is filling these positions today as you read this article. We are in search of individuals within our MTB/trail community that would have interest in representing their favorite trail(s) around the area. This is also a perfect option for those of you out there that are interested in helping out with the trails more but trail building isn't quite your fortay. All it takes is simply riding the trails and reporting back the trails conditions you encounter via social media. For more details or questions on how you can claim your favorite trail and be a designated Trail Steward for the OORC contact us today or better yet go ahead and fill out an OORC Volunteer Application by clicking on the link provided and we'll follow up with you as it is received.
---
A NEED FOR VOLUNTEER EFFORTS/ A CALL TO ACTION:
Hand built since 1997 the Ozark Off-Road Cyclists has become known for what they do best. Building trails in the Arkansas Ozarks and paving pathways for bright futures in our trail community. The club is now accepting volunteer applications for all of those looking to make a bigger difference and take part in the movement sweeping not only our remote region but the entire country. Join us as we build and maintain the trails all around the Arkansas Ozarks. The OORC always has open opportunities for those committed to the trails on a caliber of every level. Whether it's moving dirt helping build trails or working with the crew with event specific duties the OORC needs the efforts of volunteers just like you. If you're not quite sure how you can be of help follow this link here to our site for more OORC volunteer opportunities that are available or just simply fill out our volunteer application and we'll have a club leader reach out to you instead.
OzarkOff-Road Cyclist would like to put a direct call out to those who dabble in the specialty of Graphic Arts and Digitial Media as well. We are in the midst of rejuvenating the current site and seeking assistance from those within the mebership base that may be interested in contributing toward these efforts. Please contact OORC Secretary - Milah Pack by email at This email address is being protected from spambots. You need JavaScript enabled to view it. or call 817.980.1042 for more information on how you can help.
---
OORC RIDES
Rides updates coming soon!!!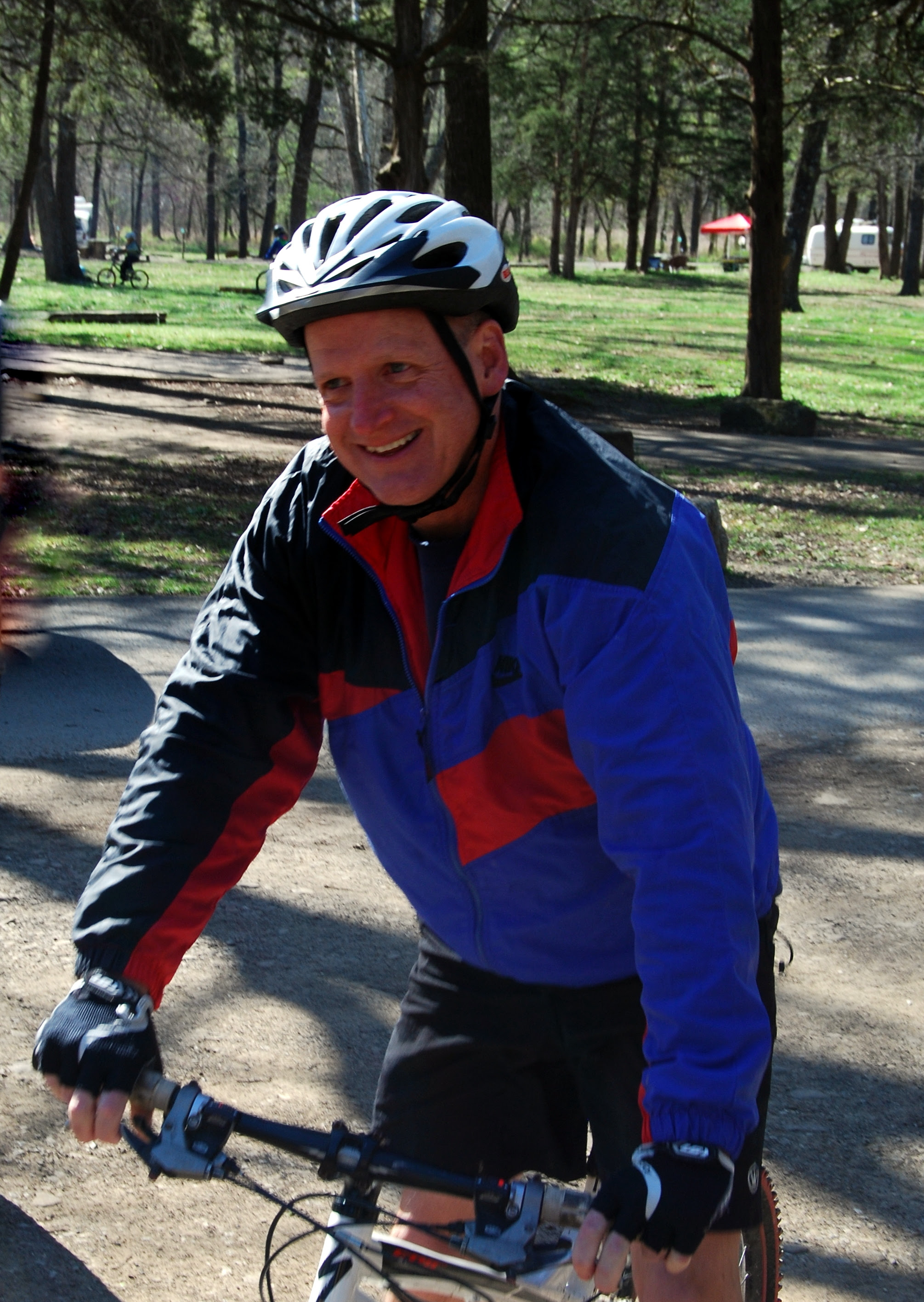 HB Fink
OORC - Rides Coordinator
OORC Upcoming Rides - April, May, June 2016
April
Future rides coming soon! Please check back again.
MAY
Future rides coming soon! Please check back again.
JUNE
Future rides coming soon! Please check back again.
***Weather and unforeseen events might alter the schedule. Be sure to check theOORC Events Calendar and/or the OORC Facebook Events page for the most current listings and updates.
---
OORC UPCOMING EVENTS
---
OORC BRANCH NEWS
CC OORC NEWS
Summertime, and the livin's easy!
Hello from Carroll County Arkansas!
The third quarter of this year has been an exciting one for the C.C. Riders!! We've been working on trails and riding mountain bikes, 'cause that's what we do.
The Eureka Springs Fat tire Festival and the Xterra Eureka Springs Off-Road Triathlon each happened in July. Our local branch hosted several work days to prep the trails for these events. Thanks to the mother ship for bringing the big guns (loaded for bear of course) to the July 11 work day. (See photo) Highlights included fun, sustainable reroutes to the North descent of the Miner's Rock Trail and to the Twin Knobs Trail between the ball fields and the Bench Loop kiosk along with improvements to the Lost Ridge descent to Hyde Hollow. The OORC swept the race courses after the Fat Tire Festival and the Xterra Triathlon clearing course markings, ribbons, and trash. They also made sure that no racers were stranded out on the courses.
Also, in case you hadn't heard, the Spring Garden Trail east of Harmon Park is finished and fun to ride.
Denton West, (with regular help from Crystal Rust) continues to lead our world famous Thursday night rides. We meet at 5:30pm (6 if it's hot outside) at Adventure Mountain Outfitters in Eureka Springs. These rides are beginner friendly and all riders are welcome.
What does the future hold? We're about to build something new. We have 3 choices. We could build a new beginner trail at Leatherwood. We could build a new trail below the Crescent Hotel. We could build a new trail connecting Spring Garden to Main St. via Rock St. I'd personally like to build all three. The question is, which one to build first.
Ozark Mountain Ziplines is going to give a free zipline ride to any volunteer who has put in at least 15 hours this year on Carroll County trail projects. We're going to combine this free zipline ride with a bike ride and a meal for a grand celebration this October. It's not too late to get your 15 hours to qualify. Get in touch with us through the Carroll County OORC Facebook page or email me at This email address is being protected from spambots. You need JavaScript enabled to view it.for more info.
See you on the trails,
Nate Griffee
CC OORC - Branch Chair
---

RV OORC NEWS
Greetings from the River Valley OORC
The Trails are in great shape thanks to our club members doing individual volunteer work . We have trail tools for check out at Carr's Chain Reaction. Great turn out on the last group ride. Two are planned for each month.
One group ride will be on a Sunday at 2:00 pm. The other will be on a Saturday at 1:30 pm. The rides will alternate places and days every month. And the dates will be decided at the monthly meeting. And will always be back to back weekends. The dates will be posted on the River Valley OORC Facebook page.
We would like to allow as many opportunities as possible to meet the other club members. At our last club meeting we voted to begin a lease with the US Army Corp of Engineers for the closed Flat Rock recreation area. Papers are being filed grants applied for and we are hungry for more single track in the river valley. In closing a bit of bicycle karma for you. If you give a fellow rider a tube may you tires hold the perfect pressure for your ride.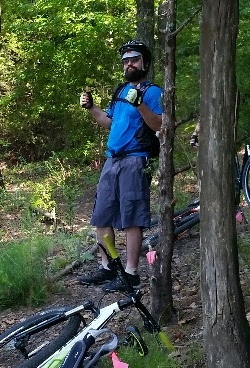 ​
Marcus Broussard
RV OORC - Branch Secretary
---
---
OTHER TRAIL NEWS and TIPS...
Mountain Biking Tips for Beginners:
The Topic of Momentum...
1. Momentum is your friend. Try to use less brake as you become more comfortable on the bike.
2. Change your gears more frequently when you find the cadence your bodies is most comfortable using. If it is less than 80 rpm's, suggest raising to minimum of 80.
3. Fast feet on up hill climbs! Don't get bogged down with to large a gear.
4. Don't forget to change gears as you start down hill you always need gear to push. Nothing's worse than railing down a hill, hitting a flat and you haven't changed gears, attempting to peddle it almost throws you because there is no resistance loosing all your momentum. Buzz Kill
5. Momentum caries you over obstacles. I know it seems counter intuitive as a newbie, but you are actually safer over obstacles, slow speed tend to bounce you and forces the bike in different directions.
6. Use the side knobbies of the tire turning the bike over more around turns allowing you to maintain momentum.
7. Momentum is your friend making the bike efficient and fun!
Trail Highlight of the Quarter…
There Are Some Great Beginner Mountain Bike Trails in Eureka Springs
I've heard several people say that there are no beginner mountain bike trails in Eureka Springs. This is not true. Here are 3 descriptions of great beginner mountain bike trails in Eureka Springs.
1. Park at the Lake Leatherwood cabins/ dock area. Look for the orange gate near the swing set. (I'm not talking about the trail that runs right along the lake. It is not a beginner trail.) There is a kiosk next to the orange gate and a sign that says Beacham Trail. Go past the gate and ride north on the double track. You can make a right at the sign that says "point camp" and check out the point. There is a picnic table there with a great view. Get back on the Beacham Trail and continue north to the dam. Return to the parking lot the same way you came.
2. If you want something just a bit more challenging, park at the Lake Leatherwood ball fields at the south end of the park. Ride north past the restrooms along the paved trail next to the soccer fields. Be looking for a single track trail on your right. This is the Leatherwood Trail. Get on it. Follow it across the little bridge. The trail parallels Leatherwood Creek. It crosses the creek at a big wooden bridge. The section just beyond the bridge has some roots and rocks that you may have difficulty riding. Get off and push your bike. We all have to do this sometimes. Continue on through the camping fields and across another bridge. Climb the short gravel road to the cabins/ dock parking lot. From here you can go back the way you came or begin ride #1 described above.
3. Park at Black Bass Lake. Ride the trail around the lake. I believe counterclockwise is easier than clockwise. Be careful descending the switchbacks. Go slow. Also, be aware that wooden bridges become very slick when wet.
---
IMBA South Central Regional NEWS…
IMBA Announces 2015 Epics and Ride Centers - IMBA's 2015 Model Trails recognition includes the Northwest Arkansas Regional Ride Center. With the Bentonville (silver-level) and Fayetteville (bronze-level) Ride Centers located less than 30 miles apart, the two towns have formed the the first and only region-wide Ride Center designation. Mountain bikers visiting the Ozarks can double-down, with a wide range of riding to choose from and two cycling-crazed communities hosting some of the nation's finest trails.

​High School MTB Racing Officially Comes to Arkansas - The National Interscholastic Cycling Association (NICA) has been approved in Arkansas to start hosting races in 2016. The many pieces of NICA will be assembled in the coming year from creating teams and training coaches to developing race venue trail types sanctioned by NICA staff. IMBA supports and has long partnered with NICA to help build a solid platform for kids to learn how to ride bikes, become team members and race. Learn more about NICA in ARKANSAS.
Arkansas State Parks Continue to Add MTB Trails - IMBA recently met with the Ozark Off-Road Cyclists (OORC) and Arkansas State Parks representatives at Withrow Springs State Park to map out and plan a new, natural-surface trail. OORC trail stewards have agreed to create a conceptual design and present it to state parks planners. Arkansas State Parks will take the lead on securing grants, doing master planning and eventually moving dirt. Withrow Springs has about 600 acres of pristine Ozark forests with water features and steep bluffs that are ideal for single track trails. Located less than an hour from Bentonville and Fayetteville (both IMBA Ride Centers), this state park is a crossroads for people coming into the Northwest Arkansas area to recreate.
---
A MOUNTAIN OF GRATITUDE GOES OUT TO ALL OF OUR OORC SPONSORS!!!
Without your support our efforts would be futile.